Scrapbook Layouts Let Your Creativity Shine!
If you enjoy card making, then you probably love scrapbooking, too, but between card making and scrapbooking, your creativity can only stretch so far!
How many times have you pulled out all of your crafting supplies ready to tackle hundreds of pages, only to find yourself with nothing accomplished hours later because you just don't know where to start?
There always seem to be creative and time consuming issues to consider:
How many pictures should I use?
And where should I put the pictures?
Which embellishments would look best and where?
Should I put the title or caption here? Or there?
So, how do you keep up your creative momentum when working with several scrapbooking pages? Well, with scrapbook layouts, of course!
Like card sketches, scrapbooking layouts give you the perfect blueprint for inspiring your creativity and allowing your scrapbook pages to shine!
Cardmaker and scrapper, Jennifer Gormly, has put together 500 scrapbook sketches so that you will never have to stare blankly at your scrapbooking supplies ever again!
You will have hundreds of different layouts ready for your own creative touches!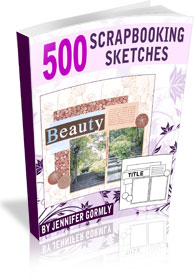 Start creating gorgeous pages today with these scrapbook sketches!